Next phase to improve Arkansas child welfare system unveiled.
A year after Arkansas reached an alarming record in the number of children in foster care – and the governor said the system was in crisis – the state's top child welfare officials say significant improvements have been made. But in a meeting with reporters Wednesday, they acknowledged there's still much more work to be done.
For more than an hour and a half, the directors of the Department of Human Services and its Division of Children and Family Services detailed changes that have been made to stabilize the child welfare system. Many of the recommendations were provided to Gov. Asa Hutchinson by outside expert Paul Vincent. DHS Director Cindy Gillespie praised the governor for then implementing a plan last November, and convincing the legislature to provide funding.
"Last year's plan was a bold plan, but it required resources and he dug in and looked at it in-depth with us for several weeks and said 'go' and gave us the resources to get going and has supported us throughout and, you know, holds us accountable for it as he should."
Next phase to improve Arkansas child welfare system unveiled.
Figures written on a wall in the director's conference room suggested there had been improvements in many aspects. Those included reducing the caseload for each family service worker from 28 last year to 22 this year. That was attributed to the hiring more caseworkers. There were also increases in the number of foster family homes in the state and a reduction in the number of overdue investigations.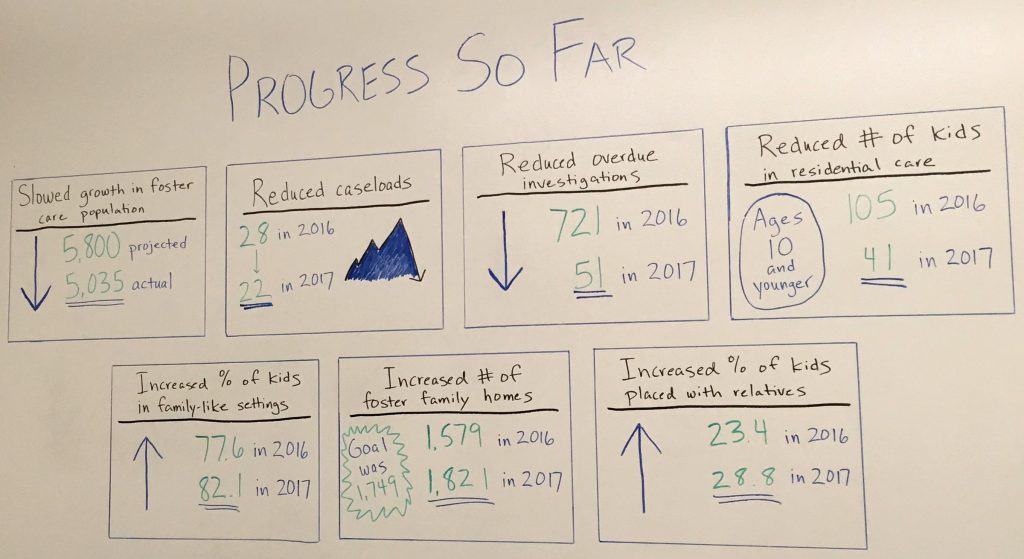 DHS' Division of Children and Family Services Director Mischa Martin said key in reducing the number of children in foster care has been using emergency shelters as a last option.
"Safe and appropriate relatives are absolutely the best option, and if there's not a safe and appropriate relative, we want kids in a family, and if they need some type of treatment in a more treatment setting, then that should be a short-term intervention to get them back to the family setting," Martin said. "So a lot of our work in moving beyond the crisis was specifically related to placement, so we reduce the use of emergency shelters so that, one, we would have spots available when kids did need to come in to get care and be placed in an emergency shelter."
Next phase to improve Arkansas child welfare system unveiled.
Martin said an increase this year in state funding for mental health services will make a big difference. That will include treatment for parents with substance abuse issues so that children are not endangered in their homes.
"We have to remember that more than 50 percent of our children enter foster care with substance abuse and neglect as a factor, and so that is really key in tying in with those community-based providers for services in substance abuse treatment to work on prevention and if foster care is needed for a short-term intervention that they can move quickly back into their homes once those services (are completed) and it's safe for those children to return," Martin said.
Next phase to improve Arkansas child welfare system unveiled.
A  report for phase two of improving child welfare, titled "Renewed Hope" was released at the meeting. It calls for continuing to expand the number caseworkers, providing more training and retaining staff through better salaries. There should also be a continued reduction in caseloads and increasing the number of foster homes that take children six and up along with their siblings.
In a written statement, Governor Hutchinson said:
I'm pleased with the work of DCFS and the progress Director Martin and her staff have made to improve our child-welfare system. While there's still much work to be done, this report shows we are headed in the right direction with fewer children in foster care, a higher number of children placed with relatives and reduced caseloads. This is great news for our children and the foster care community as a whole, and we will continue to build on these successes to make our state a better place for children and families.Arkansas Governor Asa Hutchinson
Gillespie said she has been meeting with the governor every couple of weeks to give him status updates.
"Over the last year it has actually been really amazing to watch the work and effort that has gone on, not just by Director Martin and her team, but also by the rest of DHS and by our partners outside."
Those community partners include The CALL, Project Zero, Immerse Arkansas, Arkansas Baptist Children's Homes.